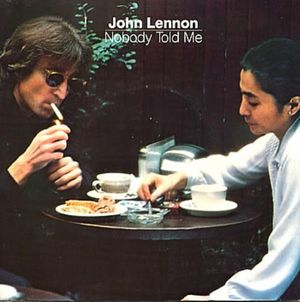 John & Yoko photographed by Kishin Shinoyama at Café La Fortuna, New York, 18 August 1980.
To be honest I don't remember much about the morning of December 9, 1980. My mother woke me up and broke the news to me, which could not have been an easy task: I was a Beatles-obsessed 8 year old (an anomaly in those days), and my parents were as devastated and confused as I was. 
But beyond that, the rest of the day is a blur. I remember going to school, and my mother picking me up afterwards and the DJ on the car radio playing Double Fantasy in its entirety, but that's about it. 
But I do remember the news coverage that night and the next few nights and weeks, as well as a palpable sense that pop culture had been shaken to its core. I remember the various anchors on different channels using a variety of synonyms; the news media assigns titles to deceased public figures so they don't have to repeat the name throughout the report, but this was new territory for the copy writers of 1980: 
"The former Beatle was gunned down in front of his home…" 
"The legendary musician was killed outside his luxury apartment building…" 
"The rocker was murdered as he returned from a recording session…" 
"The singer was assassinated…" 
I remember the flood of Beatles footage on the news from every era of their career, much of which I'd never seen before in those pre-YouTube days: the Ed Sullivan show, the Washington Coliseum, Shea Stadium, "Hey Jude" on the David Frost Show, "Don't Let Me Down" on the Apple rooftop, and clips from the rarely-shown promo films. I remember New York's Channel 5 airing Yellow Submarine at 11pm on New Year's Eve, and staying up late to watch it. 
I remember marathons of Beatles and solo Lennon music all over the radio. "(Just Like) Starting Over" and "Watching The Wheels" were in constant rotation, as were "Imagine" and "Give Peace A Chance," and I remember hearing "I Call Your Name" for the first time. I remember Channel 7 (ABC-TV in New York) broadcasting the vigil in Central Park the following Sunday, the first and only time I've ever seen 10 minutes of silence on live TV. That was also the afternoon I heard Side 2 of Abbey Road for the first time. 
I remember getting the Hey Jude album for Christmas that year. Purists who denounce that patchwork American LP as an "Allen Klein cash grab" with "no continuity" can bite me: those 32 minutes of primo Beatles were a ray of sunshine in that long cold lonely winter. I also remember hearing Plastic Ono Band for the first time, and my young mind attempting to reconcile the gap between that LP's raw emotion and the slick polish of Double Fantasy.
I remember a lazy Saturday afternoon in January of 1984, when a DJ suddenly announced "…and how great is it to have something new from JOHN LENNON!" followed by John shouting the "Three…four!" count-off that launches the joyous, rollicking "Nobody Told Me." The first single from the posthumous Milk and Honey album, marrying his biting social commentary with an infectious groove and jangly guitars straight outta 1965, felt like a wink and a smile from rock and roll heaven and remains my favorite solo Lennon track to this day. 
I also remember a paradigm shift in the cultural landscape as the decade wore on, a new sensibility that too often interfered with my own young efforts to absorb the man and his music objectively. I remember feeling what I now understand to be the canonization of "The Beatles:" with their body of work as a group now finite and any reunion hopes forcibly put to rest, their music was now coated with a new aura of reverence that was completely antithetical to the madcap fun and irreverence that made them so irresistible in the first place. 
Likewise, I remember the hasty deification of "John Lennon," shoddy attempts by mainstream media and fair-weather fans to oversimplify this complicated artist, and the build up of myths and misunderstandings about his music and his message (which continues to this day). I remember the shopping mall proliferation of cheesy t-shirts, posters and buttons with slogans like "GIVE PEACE A CHANCE" and "WE ALL SHINE ON," often recycling John's 1968 White Album photo and surrounding it with peace signs, flowers, strawberries and all manner of psychedelic crap-ola. I also remember watching the John and Yoko: A Love Story TV movie on NBC, and wondering why the "John" character kept his 1968 White Album look all the way thru 1975. 
I remember Mayor Ed Koch dedicating Strawberry Fields in Central Park in 1985. The first time I actually went there was on a December 8th in the mid-90s, hoping to connect with some like-minded Beatles Fans. Instead I encountered a filthy bunch of wannabe hippie freaks with guitars and tambourines and bongoes singing "All My Loving," "Hey Jude" and "Get Back" (Paul songs, duh), lighting candles and dancing around like stoned idiots and generally making a cheap spectacle of John's memory. At one point I was approached by a creepy guy carrying a giant science fair display board, showing me his evidence that John Lennon had actually been murdered by author Stephen King (the "evidence" consisted of articles from Newsweek about Ronald Reagan that had been cut up to reveal "hidden" messages). 
I remember being disgusted with these losers, but not just because they were singing Paul's songs at John's memorial or accosting me with wacko conspiracy theories. I was furious because these people were making it all about THEM: bending and shaping "John Lennon" and "The Beatles" into their own image and likeness, to suit their own needs and fulfill their own John Lennon/Beatles/60s dreams. 
It was as if everything John ever sang, wrote or spoke about went directly over their heads. If you have a moment, check out his interview with Jonathan Cott from September of 1980 (audio available on YouTube for full effect): 
These critics with the illusions they've created about artists – it's like idol worship. Like those little kids in Liverpool who only liked us when we were in Liverpool – a lot of them dropped us because we got big in Manchester, right? They thought we'd sold out. 
I've never claimed to have the answers to life. I only put out songs and answer questions as honestly as I can, but only as honestly as I can – no more, no less. I cannot live up to other people's expectations of me because they're illusionary. I cannot be a punk in Hamburg and Liverpool, because I'm older now. I see the world through different eyes now. 
This is the John Lennon I love and am most fascinated with, the man that he was right near the end of his life. He seemed determined to live his life simply and fully, by creating the best art and music he was capable of and staying in the moment. After the turmoil of the early 70s, he'd earned the right to enjoy a peaceful life on his own terms in the greatest city in the world. But he also remained a restless truth seeker, with no patience for cheap sentiment or bullshit of any kind. The John Lennon I love would have reprimanded those freaks in Strawberry Fields, telling them to fuck off and get a life. 
Perhaps that's why the tragic events of 12-8-80 still carry a bitter sting four decades later. John Lennon was seemingly doing everything right to ensure that he would age gracefully with dignity and self-respect, without losing his edge. It hurts us to be reminded that such a hard-won existence could be so fragile. And so we ask ourselves and each other "What would John Lennon be doing now?" or "What would he say about what's going on in the world today?" 
I'll tell you what he WOULDN'T be doing or saying: whatever we think or expect he'd be doing or saying. By all accounts he was full of contradictions, constantly evolving and adjusting his perspective to accommodate the truth of the present moment. Besides, for us to pontificate on "what John Lennon would be doing/saying now" is presumptuous, and missing the point: what should only matter to us is our own thoughts, words and deeds.
You, and me, right now.
That's the message I'm getting from John Lennon in this season of my life: to live your own truth, and find your own way. Upholding these beliefs is the only fitting memorial. 
REMEMBER WHAT'S IMPORTANT 
Be well 
JM