Being a freelance writer in the internet age is not for the faint of heart.  The court of public opinion has grown wider and more vicious than ever, with "comments" sections full of self-appointed thought leaders skewering anything and anyone that they disagree with.  But I've accepted the fact that when you offer creative works to "the public" there's just gonna be people that don't like what you do.  Also: eyeballs are eyeballs on the web whether they agree with me or not, and since I ultimately benefit from each new click, please fire away! 
Now, I would expect invective from strangers if I wrote about heavier topics like politics, crime, etc.  But I write mainly about The Beatles, and I've been shocked recently at a handful of my fellow Beat-ards whose love of The Fab Four has morphed into an intolerance for anything other than their own narrow viewpoint.  How could the band that sang "the love you take is equal to the love you make" attract fans who are so combative, rude, and short-sighted? 
"I don't care what you think."
"There's no debate anymore." 
"Totally stoopid." 
Really? 
Case in point: my recent piece for CultureSonar, in defense of Dave Dexter Jr. ("Stop Knocking The American Releases Of The Beatles, Already.")  In short, "Dex" was the Capitol Records executive that prepared The Beatles' LPs for the American market in the 1960s.  My view is that Dex deserves more credit because those US albums stand on their own as fine cultural artifacts of their era.  But this disputes the prevailing narrative that Dex ignored the "creative intentions of the band," and woe betide to anyone who tampers with the Fabs' precious artistry! 
I expected some blowback because my opinion is the unpopular one.  But it was interesting to note just how quickly and easily the discussions would turn mean-spirited, thanks to the anonymity of the web; a group of Beat-ards gathered in person at a Fest For Beatles Fans would never get so defensive or belligerent.  Dex was called a "creep," a "corporate stooge" and a "butcher."  And at least one reader took the time to deconstruct my entire article, line for line, and refute every single point I made.  Some of these freedom fighters even started turning on each other, disagreeing about what they disagreed with me about!  ("You are greatly misinformed." "Afraid not, read up on it.") 
Again, the negativity did not affect me.  But I also didn't let it go to my head when I saw all the folks who agreed with me 100% and thanked me for a well-written piece.  No, the feedback that I actually paid attention to was the only feedback that matters: the emails I received from Dave Dexter's family. 
First it was Tyson Dexter, whose "Grandpa Dave" passed away when he was very young.  He thanked me for my accuracy, saying that the article "put a smile on the faces of my entire family."  A few hours later, a second email came in from Dex's eldest son, Mike.  "Thank you for actually getting my father's legacy correct," he wrote.  "He has been criticized through the lens of today's technology by self-anointed purists." 
When a name that you've only read on LP covers and in history books suddenly comes to life and reaches you as a result of something you wrote, it's a beautiful feeling.  What the world needs now is love, and it's the only thing I'm trying to pay any attention to!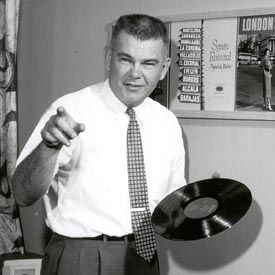 Dave Dexter, Jr. (Quotes from Tyson & Mike Dexter's emails used with permission.)