"Ready to be my personal Pino Palladino!!!??" 
That was the text from Steve Murphy - drummer, singer, one of the finest musicians on earth and my rhythm section road brother since we joined the Alan Parsons Live Project in 2003. We've rocked thousands of stages together around the world and elsewhere, and after spending endless days and nights in buses and vans and planes and rental cars and hotel rooms bonding over music we share an artistic shorthand and a common musical language.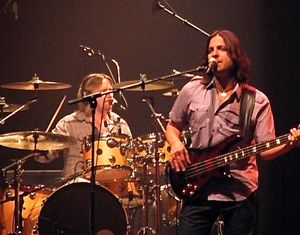 So when Murphy asks me to "be" his "Pino Palladino" I immediately know what he means: he wants a fretless bass track from me. In this case, he was doing a "video collab" cover of Don Henley's "Sunset Grill" to keep busy during the quarona lockdown. 
Now: I'm sort of familiar with the chorus to "Sunset Grill," but that's about it. I almost know some of the verse. I don't know the bridge at all…is there even a bridge? I know there's a section at the end with the key change and the horn parts, because I vaguely remember somebody doing an arrangement of this tune at Berklee after Miles Davis died and quoting the melody to "All Blues" during that section. But in all my years of learning tunes I somehow bypassed "Sunset Grill." To be honest, it was never my favorite Don Henley song ("End Of The Innocence" is). 
I also haven't played my fretless in weeks, and god knows what condition it's in (or what condition my fretless chops are in). But I do know that Pino Palladino's patented, high-register fretless countermelodies are always tricky and unforgiving: there's nowhere to hide if you screw those up. Plus I have to film myself recording the track, which means no cheating with punch-ins or edits: it's gotta be one continuous, flawless, on-camera performance of some very challenging parts on a difficult instrument, on a song that I barely know. 
My reply was obvious and inevitable: "I'm on it!" 
I downloaded the entire Building The Perfect Beast album and slapped on the headphones to get acquainted with the tune, and right away I was lost in unfamiliar territory. First I was startled by some unexpected harmony: the tune is in Ab major, and the pre-choruses start with a bold Pino lick over a B natural chord with A natural in the bass. (Non-musicians, take my word for it: this is some wacky shit.) The pre-chorus is also 5 bars long, and on the first listen the chorus seems to come out of nowhere. Then the bridge happens (turns out that yes, there is a bridge): it's 10 goddamn bars long, with more unpredictable chord changes. 
Back in '03, Murphy, guitarist Godfrey Townsend, keyboardist Manny Focarazzo and I worked up the entire APLP set list in just four days of rehearsal. "Happy Together" tours were prepped with two rehearsals: one marathon session with just us at Godfrey's house, and a quick run-through with the principal artistes on the empty stage of the first venue the day before the first show. The four of us became a powerhouse band that could quickly absorb any music thrown our way and deliver it flawlessly night after night. I should be able to smoke "Sunset Grill" for breakfast. But there I was, 48 years old and literally sweating at the sound of some chord changes, a few bass licks and an unusual form. I felt completely helpless, adrift in a stormy sea of 80s synths and reverbs, with Pino's fretless lines circling around me like tiny sharks shouting "Catch us if you can, sucker!! Ha ha ha ha!!!"
I finally asked myself: "Why is this music making me so nervous?" 
"Because it's been months since you've had to learn a song accurately from start to finish, that's why," I answered myself. "That part of your brain that processes music has been dormant since mid-March, not unlike all the live music venues that were shut down when your industry was decimated by COVID. Take a breath, make a cup of tea, and get to work." 

With my wife and daughter on the couch watching a movie, I retreated to the bedroom with my blue Spector Q4 Pro fretless, my Focusrite Scarlett 2-channel interface, my MacBook, a pencil and some staff paper. I started notating and erasing and hitting play-pause-rewind, and eventually I had a "road map" that made sense of everything. I picked up the fretless and plugged her into the Scarlett, and the old girl was in better shape than I expected: intonation good, neck straight so her high notes sang clean, piezo pickup in the bridge adding some sparkle. I hit record, and with Murphy's guide track playing in the headphones I struggled through at least a dozen failed attempts to get this unorthodox part under my fingers and onto "tape," all while filming myself with my iPhone. 
It was embarrassingly obvious that this bass line was kicking my ass. But I tried to ignore how humiliated and frustrated I was as I confronted my own limitations, and kept on.
"Hard to walk away with anything that feels like dignity…" 
My mind wandered to the LA studio where Pino and Don Henley and Danny Kortchmar and all the other musicians cut this track in the early 80s, back when full bands were still being hired to play on pop records. I thought about those cats thriving in a robust music industry, gathering and moving about freely between sessions without a deadly airborne virus to worry about, and I ignored how jealous I was of them and the easier times they lived in.
I ignored everything except the work at hand. Even though Pino cut this track in a big LA studio and I was running a MacBook in my bedroom in Brooklyn, our jobs were the same. But I finally hit the wall at 2am: my head grew heavy and my sight grew dim, I had to stop for the night. 
The next day I moved the operation back to my studio area, reconnecting the Scarlett to my 27-inch iMac. I also plugged the fretless into my Aguilar TH500 head, which added some sweet color to her sound.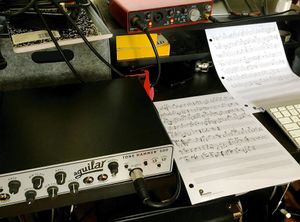 After a good night's sleep I'd also finally absorbed the tune, so I could focus on playing actual music without worrying about which chord or section comes next. I nailed it dead in the pocket after five takes, and sent the audio and video files off to Murphy who was thrilled and grateful. A little EQ and some chorusing got the track sitting perfectly in the mix, and the finished product can be enjoyed here: 
After a certain point in your life/career, there's going to be people that you'll almost always say "yes" to simply because you've known them for so long, and you trust them enough to guarantee your artistic safety. I could have easily copped out on Murphy with any number of excuses: too tired, too busy, don't really know the song, whatever. But I'm thankful to him for the opportunity to get my gears turning again, and I'm glad I went through it to get to it. The joy and camaraderie of a great collaboration, and the satisfaction of finally getting it right, far outweighed any discomfort I confronted in the beginning. Sitting still in the safety of your "wheelhouse" can leave you with rusty wheels, and now more than ever it's "use it or lose it" for me and my fellow musicians. 
Remember what's important 
Be well 
JM