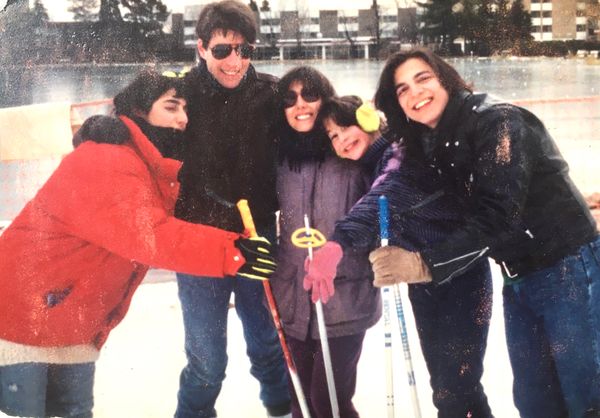 This is a blog I dreaded writing.  But it's the most effective way that I know to organize my thoughts, so here we are.  My stepfather, Murray Becker, passed away on Sunday, April 5th from a brief but severe (non-COVID) illness.  He was less than a week shy of his 71st birthday. 
I've always disliked the "step-" prefix; I have simply been gifted with four beautiful parents who made such distinctions irrelevant by their love for my sister and I, as well as the respect and friendship among the four of them.  I was not expecting to lose one of them this year, much less during a pandemic-induced quarantine.  But in this isolation I've somehow been finding comfort in nearly four decades of memories of Murray, and understanding what a blessing his profound impact and influence on me has been. 
I remember the weekend he moved in with us, in the spring of 1981.  With each car trip the records kept piling up in our living room: more records than I had ever seen in one place outside of Sam Goody's!  And a lot of it was this stuff I'd never heard before: no singing, just saxophones and trumpets making up melodies with a lot of piano and ride cymbal.  But my young ears adjusted quickly to the sound of jazz.  Within a few short months I would learn so many new names: Thelonius Monk, Dexter Gordon, Sonny Rollins, Charles Mingus, Miles Davis.  Blue Note, Impulse, Verve.  Village Vanguard, Sweet Basil's, Bradley's.  Murray opened my ears and my mind to an entire cultural universe, and provided me with an early education in America's primary export. 
But it didn't end with jazz; I never knew what would emerge from that veritable ocean of LPs and fill our home with sound.  Taj Mahal, Captain Beefheart, Louis Prima, Wild Tchoupitoulas, Boz Scaggs, Slim Gaillard, Frank Sinatra…and any one of an impressive number of Sammy Davis Jr. LPs.  ("I don't care what anyone says," he'd tell me.  "He's great!")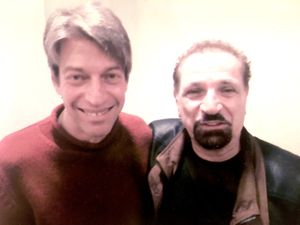 (Murray with Felix Cavaliere at a 2007 Hippiefest show.  He was a huge Rascals fan, and I was thrilled to make this meeting happen.)
Murray's expansive, refined tastes naturally influenced my own sensibilities as a musician and a listener.  (My "Ride Jams" web series and its credo of "listen to music listen to music listen to music it's good for you!" owes its very existence to Murray.)  But I was also learning about the importance of having a passion, and how to make room in one's life for the things that bring the most joy. 
That passion applied to his personal relationships as well.  Murray's friendships ran deep and seemed to last forever, and he shared his love for his people unconditionally and whole-heartedly.  What you saw was what you got with Murray, and to engage with him in a conversation was always a treat.  He didn't do small talk: any interactions with Murray cut straight to the heart of the matter, whatever that was.  I learned so much from him about how to have a good friend, how to be a good friend, and even how to relate to women - the fellowship of his "soul sisters," a key group of women in my parents' inner circle, were crucial to him. 
In 1988 Murray's passion merged with his profession, when he took on the legendary drummer Art Blakey as a law client.  The initial call was for a simple legal issue, but once the Jazz Messengers' leader discovered Murray's deep passion and knowledge of jazz he knew he'd found not just a good lawyer, but a uniquely trustworthy ally and friend.  Soon Murray was handling performance contracts and other Jazz Messengers business, eventually serving as de facto manager for the man known reverentially in the jazz world as "Buhaina." 
It was an exciting time, as Murray handled the delicate balance of being thoroughly professional but also allowing himself to enjoy the odd perks.  One early morning I was leaving for school, and ran into Murray as he was pulling into the driveway after a very late night out in the city with Buhaina!  Then there was the night my sister knocked on my door and said "Art Blakey's in our living room."  I ran downstairs and there he was: the drummer who made his bones with Billy Eckstine and Dizzy Gillespie, who launched the careers of Wayne Shorter and Wynton Marsalis, a living link to jazz's past, present and future, seated comfortably on our couch.  We had a lovely visit, and when Buhaina eventually rose to make his exit he turned to me and said, "Man, your dad is sooooooo…FRESH!" 
After Buhaina's passing in October of 1990 Murray had no interest in continuing to exploit the "Blakey brand," and after tying up a few loose legal ends the Jazz Messengers work quietly went away.  Years later as I made my own way through the music business, I would encounter hangers-on, parasites and wanna-be's strutting around backstage at gigs expecting VIP treatment because of their long-ago flimsy connection to some big name.  But Murray never once sought any privilege or status from his work with Bu, and rarely even discussed their time together outside of the family and a few trusted friends.  I admired him greatly for this demonstration of integrity and humility, and I'm so grateful that I did not wait too long to tell him so.  He could have leveraged that gig into a lifetime of comp tickets and free drinks for himself and my mother, but that wasn't Murray.  Attorney-client privilege notwithstanding, he simply rejected that kind of superficial attention for himself, and he despised it in others as well. 
This also taught me another life lesson, again through example: shut up and do your work to the best of your ability, and don't believe your own hype.  Murray had no tolerance for bullshit, self-aggrandizement or unnecessary drama of any kind; he held himself, and all of us, to that high standard.  Whenever I got irrational and started to panic over something ("He's gonna evict us!"), Murray could instantly defuse the situation: "Time out…he's NOT going to evict you, alright? Just think for a minute."  His steely composure, born in the streets of 1950s Brooklyn and galvanized in the lower Manhattan courtrooms of the 80s and 90s, always gave me the wherewithal to clear my head and find my own solution. 
When my mother gave me the final, grave update on Murray's illness, I completely fell apart.  For two days I was an empty emotional shell.  I was looking for an answer.  At one point I realized that Murray was always the one to talk me down from the ledge, and I asked myself: what would he tell me right now? 
And then I heard his voice. 
"Yeah, I know this sucks…but what are you gonna do, man?  You gotta figure out how you're gonna deal with this!  You're a grown man, you have people depending on you…you can't just lie there in bed crying all day!  C'mon…you're a smart guy, you'll figure it out." 
From that moment forward I have been buoyed by his immovable presence, and I'm rising to meet each new day knowing that he's still looking after me in his own way.  I am still in the early stages of my grief, and the preceding words only scratch the surface of what Murray means to me.  But my wish for all of you is to be blessed with at least one relationship in your life like this. 
If you can, call your parents right now and tell them you love them. 
And LISTEN TO MUSIC LISTEN TO MUSIC LISTEN TO MUSIC, it's good for you!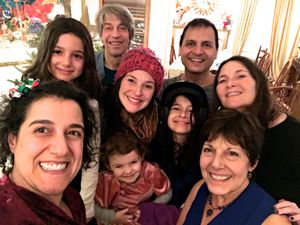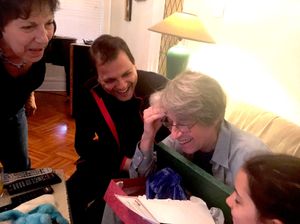 Be well 
JM